GOLF FITNESS with TPI EXPERT
Your swing is based on what your body can do.
Know your limitations, understand how your body affects your golf swing and improve your game.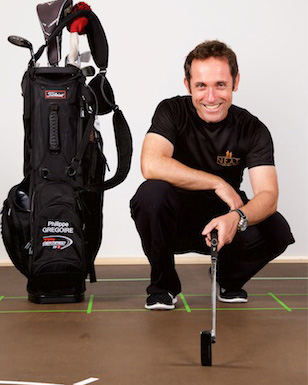 The kinematic sequence is the order your body uses to fire your muscles during the swing. Every PGA Tour player has a different swing. But research shows they all have 2 things in common: kinematic sequence and impact position. You can train your body to develop the same sequence and improve the consistency and efficiency of your impact.
Outcome: a naturally lower score.
Your body is built to move thanks to the combination of mobility and stability zones. There are several swing issues that can result from discrepancy between these two factors - which can then cause injuries. Teaching and helping your body to avoid these faults, and move instead as it's intended to move, can help prevent suffering from back, shoulder, knee or other related pain.
Distance means power. In science, power equals strength times speed. Speed needs a minimum range of motion. So after an assessment, we can define if you first need more range of motion, more strength or more speed to improve your distance. The purpose is then to train your flexibility, strength and speed skills, integrating the proper sequence and angles of an effective golf swing.
TPI philosophy : We don't believe that there is any one way to swing the golf club; there are a thousand ways to swing the golf club. However, we do believe that there is an efficient way to swing the club for everybody based on what one can physically do.
In Oceanside, California, TPI put together the highest level of expertise in terms of Golf Coaching, Conditioning, Functional Training, Medical knowledge, Technology and Scientific facilities.
This is why TPI is the world Leader in Golf Health and Fitness, trusted by a great number of PGA Tour golf players.
A TPI certified trainer is not just a personal trainer who knows a bit about golf, but rather someone who has developed golf bio-mechanics and training knowledge with the best trainers in the world – training which can be adapted for you. More than fitness for golfers, it's the best of Golf Fitness for your own body and your own swing.